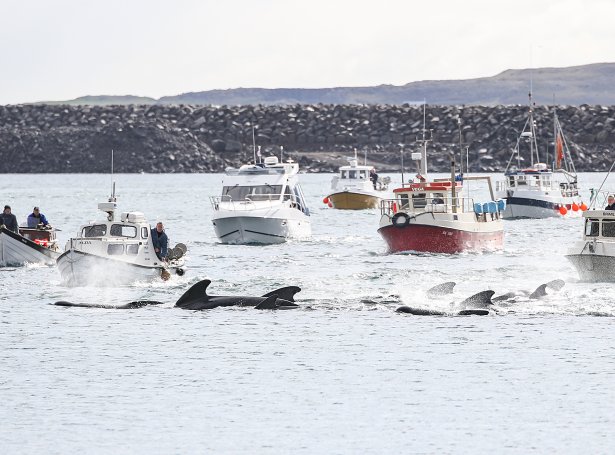 Since half past ten this morning another school of pilot whales was spotted by the Faroese. The grind is taking place north of Hoyvík in Tangafjörður.
About 20 - 30 pilot fin whales are to be killed brutally by the locals.
The Faroe Islands' ritual pilot whale hunt is not only highly controversial, eating the whale meat also poses a health hazard, public health authorities in Denmark's autonomous North Atlantic territory warn, advising against eating it.
In a centuries-old tradition known as the "grindadrap", pilot whales swimming close to shore during their summer migration are surrounded by Faroese in small boats, who herd them into shallow waters and beaches where they kill them with knives, turning the water red.
The meat is then distributed to locals.
However, the head of the Faroe Islands public health administration, Pal Weihe, advises against eating it.
As scientific documentation of toxicity levels steadily improved, that recommendation was extended to the entire Faroese population in 2008—with mixed results.
"When I say, 'You shouldn't eat it anymore', that's almost the same as to say 'Do not kill the whales anymore'," Weihe said.
"I'm not interfering in that, I'm just saying 'Don't eat them'. But as the only reason for killing them is the consumption, that means that some people are not listening to what I say."
Source: http://jn.fo/ & Dagur.fo