Yearly the band members are participate in the annual whale hunts for pilot whales in the Faroe Islands.
During the so-called 'Grind', dozens of boats are driving the pilot whales into a bay where they are driven towards the beach.

There the band Tyr will be waiting, with the other villages to slaughter each and everyone of them and hack them into pieces.
Mostly the pilot whales are murdered in the time that they are pregnant and passing the Faroe Islands during their migration.
Probably a very enjoyable moment for frontman Heri Joensen who is yearly taking part in the 'Grinds' along with other villagers.
During these hunts whole families of highly intelligent pilot whales are slaughtered which means that complete unique gen groups are disappearing from the oceans. This has a huge impact on the global populations of pilot whales.
These horrific practices are not only a threat to the tourism of the Faroe Islands (which are boycotted by millions), but also to the wild living stocks of pilot whales. The bio industry is totally wrong, but so is this.
Ibanez Guitars would be deeply ashamed that 'people' like this are playing their guitars if they knew about the annual slaughter this band is involved in.
Meet Tyr on their European tour
You still have questions about the need of these slaughters? The band of blood is going for a European tour and will appear in the following places:
5-4
Baroeg
Rotterdam, NL
6-4
Cafe Central
Weinheim, DE
7-4
La Machine De Moulin Rouge
Paris, FR
9-4
Sala Salamandra
Barcelona, SP
11-4
Les Docks
Lausanne, SW
12-4
Musikzentrum
Hannover, DE
13-4
Durbuy Rock Festival
Bomal-Sur-Ourthe, B
14-4
Konzertfabrik Z7 & Mini Z7
Pratteln, Sw
15-4
CCO
Villeurbanne, FR
16-4
Le Grillen
Colmar, FR
17-4
Turock

[email protected]

,
Peter Siewert
Essen, DE
18-4
East Club,

[email protected]

,
Heiko Düring
Bischofswerda, DE
20-4
Masters Of Rock Cafe
Zlin, Czech Rebupblic
21-4
Barba Negra
Budapest, Hungary
22-4
Viper Room
Wein, Austria
23-4
Backstage


[email protected]

,
Hans-Georg Stocker
Munchen, Germany
25-4
Indra Club 64



[email protected]


Önder Sandikci (Önni)
Hamburg, DE
26-4
Hellraiser


[email protected]

,
Katrin Busch
Leipzig, DE
27-4
Ragnarok Festival


[email protected]


Ivo Raab
Lichtenfels, DE
4-5
Karmoygeddon
Kopervik, Norway
9-8
Vagos Open Air
Lisbon, Portugal
What you can do to make a statement against the gruesome Faroese whale slaughter?
By supporting this band, these bars, stages and festivals are supporting a group of people that is brutally butchering the endangered long-finned pilot whale.
The band's frontman keeps defending his actions on the internet by saying 'Slaughter houses are also bad'. Should we welcome a band like that in Europe? Their tour is a perfect opportunity to raise your voice against these barbaric actions.
What can you do to make a statement against these hunts in Europe?
Contact the venues above and ask them to boycott the performance of this band. Mention that you will be there to protest. No bar or venue wants trouble with groups of people that are protesting.
Actually go, and protest peacefully.
Tell all your music friends, especially you metal heads, that this band doesn't deserve your ear. Music is about love, this is not love.
Skip holiday to the Faroe Islands. You don't want to support and see this.
If you are an organizer of festivals or a booker for venues, make sure you never book this band.
Sea Shepherd Conservation Society is yearly present at the Faroe Island to document the ongoing horrific event that takes places too many times per year.
When SSCS Paul Watson, pays the band a visit during their US tour
On Monday night, Paul Watson also lashed out at Týr following the band's concert in San Diego, California. This happened after he had allegedly tried to debate Heri Joensen, Týr's lead singer.
Mr. Watson referred to Heri Joensen as "Heri The Silly Viking Wimps Out in San Diego" and claimed that "that the Viking is a coward."
"Heri Joensen refused to come out of his tour bus. He has been claiming that I would be afraid to debate him, yet last night he had his chance and wimped out", Watson said, adding that "It's easy to be the big brave man stabbing a defenseless pilot whale to death. The blood and gore splattered on his clothing is his only real link to his Viking fantasies."
However, Mr. Watson did speak to Týr's bass player Gunnar Thomsen.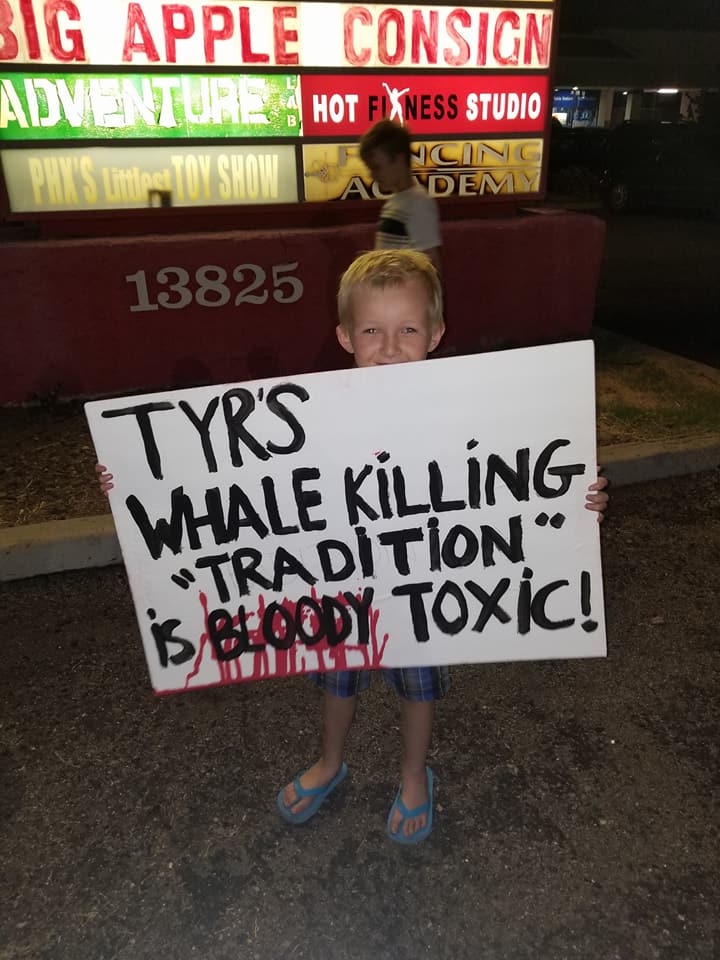 "I do respect that he came forth to speak with us and I do respect that he listened. At least he is not a coward like Heri Joensen their sadistic front man who takes great joy in promoting the slaughter", Paul Watson stated.
According to Paul Watson, Gunnar Thomsen told him "that Faroe Islanders will never stop the slaughter." In return, Mr. Watson allegedly told Gunnar Thomsen that "we will never stop opposing the Grind until it is abolished."
We truly love metal. But bands that are acting like zombies, hacking highly intelligent whales to death, just don't fit in this world. We need musicians that actually care about this planet and contribute something to this world. Tyr is not exactly the best example.
Source: Local.fo & Green World Warriors
More info about Tyr's tour, and how to contact venues, can be found here