Apam, a community in the Central Region, has gained prominence in Ghanaian society as a result of its fishing activities. Fishermen in this part of Ghana have enjoyed bumper harvests for many years.
But now, they say the stocks are fast depleting. The sea that once gave them value for their sweat, appears to be losing its resource, fish.
Their worry is not only about the depletion of fish stocks, but the possible collapse of the entire fishing industry in the not so distant future. The fishers here are worried that the increasing number of industrial fishing vessels on Ghana's waters is greatly contributing to the depletion of the stocks.
Amos Appiah, an Apam based fisherman was of the view that the fishing trawlers are becoming many on Ghana's waters and need to be reduced.
"We are not saying that trawlers shouldn't be on our waters. We want their numbers to go down. Because they are many, we meet them everywhere and they catch the fishes we go for and sell as saiko," he stated.
Nii Armah and Kweku Attah, both at Apam expressed similar concerns that the alarming rate at which the stocks were depleting needed government attention.
"The quantity of fish we get has reduced. Those who go for the sardines and herrings don't get them anymore," they complained, saying "It is a very worrying thing for us here in Apam. We put in a lot of efforts in our fishing but we get nothing".
For Kweku Ainoo, a fisherman at Cape Coast, the stocks have drastically reduced due to the influx of Chinese fishing vessels on Ghana's waters.
Ghana News Headlines
For latest news in Ghana, visit Graphic Online news headlines page Ghana news page
"They (the Chinese) catch all types of fishes, including the juveniles which they sell to some of the local fishermen as 'saiko' (transshipment)," he said, explaining that "Our business is collapsing. We are really suffering."
According to him, the business will only get better if government stops the activities of illegal fishing on the seas, saying "although the Chinese are supposed to be fishing offshore, some illegally fish in the inshore zones during the nights."
"Those Chinese trawlers are destroying the business. They are not Ghanaians but they fish in our waters anyhow. Sometimes, their trawlers destroy our nets," Ainoo said.
"The Chinese don't vote here. We vote. But see what they are doing on our waters. They catch all the fishes that we go for and even destroy some," he bemoaned the operations of Chinese trawlers on Ghana's waters.
He explains that "The Chinese are supposed to be at the deep seas but during the night, they put off all lights on their trawlers and come to where we fish and fish there. They only leave when the day is about to break."
For Ainoo, the invasion of Chinese trawlers have resulted in the artisanal fishers needing to triple their efforts at sea before they could get any catch.
"In the past, the Chinese were using bigger mesh nets but these days, they use smaller nets and trawl everything in the sea. Because of that, there is nothing in the sea. We have to triple our efforts at sea and yet, we get nothing," he said.
According to Kweku Wangar, also a fisherman at Cape Coast, Naval officers and other government enforcement agencies entrusted with the duty to protect Ghana's waters were not helping matters at all.
He believes that many illegal activities were taking place on the seas because the enforcement agencies have been compromised by some of the fleets, particularly the Chinese trawlers.
"The naval officers take bribes from the Chinese trawlers so when they engage in illegal activities, they are not caught," he said.
"How do we take care of our children if our livelihood is destroyed through illegal activities by the industrial fishing vessels?" Wangar quizzed.
"Those Chinese trawlers should be given two year closed-season. If the trawlers reduced, the stocks will improve. They have developed a net that catches even the juvenile fishes," he said.
He wonders why irrespective of the many illegal activities that the Chinese trawlers engaged in, they are not punished by the government.
"I don't know what the Chinese want. They consider themselves owners of the sea. They don't even come to the land. They are always on the sea fishing. There is no break for them at all," Wangarl indicated.
"Even if the sea is full of fishes, won't it go down if these trawlers are fishing on it every day?" he lamented.
Management plan
Statistics from the Ministry of Fisheries and Aquaculture Development (MoFAD) indicates that annual landings of small pelagics in Ghana have decreased by 86 per cent from 138, 955 metric tons in 1996 to 19,608 metric tons in 2016.
Many of the players in the fisheries industry, especially the artisanal fishers, have in recent times expressed concerns over the issue of overcapitalization and dwindling stocks.
The 2015 to 2019 Fisheries Management Plan of Ghana indicates that in 2014 Ghana had 403 semi-industrial (inshore) vessels, 107 industrial trawlers, 20 tuna bait-boats, 17 tuna purse seine vessels, and 9,951 artisanal canoes on her waters.
In the Management Plan, the Government commits to achieving a 50% reduction in fishing days of industrial trawlers over a period of three years starting in 2015. In 2012, the Government also enacted a moratorium on new fishing licenses and replacement of old vessels in the industrial trawl sector.
At the end of 2017, there were 76 trawlers with licenses to fish in Ghana, down from 107 in 2014. However, according to a recent study by Professor Wisdom Akpalu of UNU-WIDER, and corroborated by data on licensed fishing days from the World Bank, average fishing effort of trawlers has increased over this period. It is therefore not clear that the reduction in the number of trawlers has led to a reduction in total trawling activities.
In addition, a report published in January by the Environmental Justice Foundation (EJF) and Hen Mpoano, reveals that new industrial trawlers received licences to fish in 2017, while at least half of the 68 industrial trawlers licensed to fish from March–June 2018, were built in 2013 or later, despite the 2012 moratorium.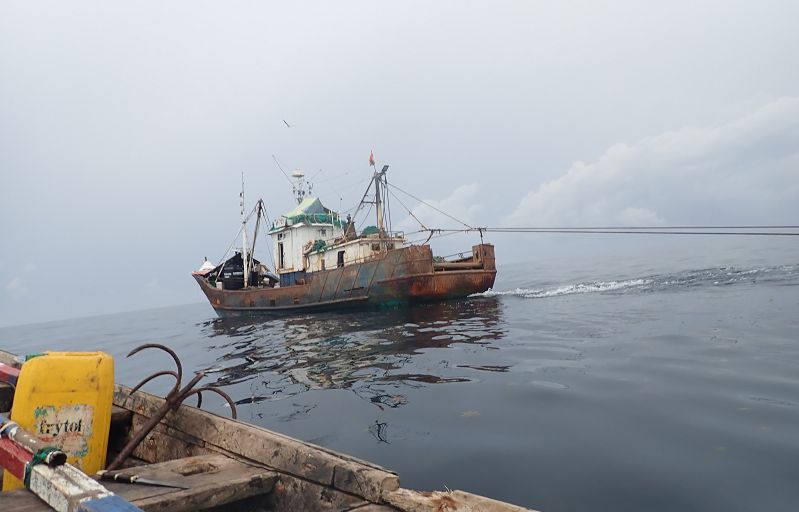 The increase in fishing activities of trawlers on Ghana's waters is of particular concern given the severely depleted state of fish stocks and predicted collapse of the small pelagic fishery.
According to the Fisheries Management Plan, the maximum amount of fish that may be caught sustainably in Ghana's waters by industrial trawlers is 30,637 tonnes per year by 48 vessels.
However, in 2017, trawlers reported catches of 67,000 tonnes, with an estimated (additional) 100,000 tonnes of fish landed unreported through saiko according to a recent report by EJF and Hen Mpoano.
Trawlers are now also targeting small pelagic species for the saiko trade, despite being licensed to fish bottom-dwelling species such as octopus.
Saiko is the illegal transshipment of fish at sea from trawlers to canoes, which is then landed in ports such as Elmina. Small pelagics – sardinella, anchovies, and mackerels – are in high demand for consumption and a key target for small-scale fishers, but stocks are on the verge of collapse.
The fisheries laws of Ghana forbid the operations of foreign owned or controlled trawlers on her waters. This is to protect the interest of the locals, particularly the artisanal fishers. But it appears some foreigners are finding a smart way to scale over these laws.
EJF's 2018 report titled: "China's hidden fleet in West Africa: A spotlight on illegal practices within Ghana's industrial trawl sector" found that over 90 per cent of Ghana's trawl fleet is likely to have some level of Chinese involvement. In 2015, 90 per cent of trawlers were built in China, while 95% of trawlers with active licences to fish in Ghana were captained by Chinese nationals.
But according to Prof. Akpalu, out of about 76 trawlers operating on Ghana's waters, only one is wholly owned by a Ghanaian. The rest are owned by Chinese.
"We know for a fact that Ghanaians are just fronting for Chinese. So, they are going into some kind of hire purchase agreement. The Chinese get the vessels here, register them in the name of Ghanaians and flag them with Ghana flag," he explained.
Prof. Akpalu asserts that Ghanaians who front for the trawlers only receive paltry sums of about US$1,000 and some by-catch, stressing that the money received by the Ghanaians who front for the Chinese trawlers constitutes only about five per cent of what the Chinese get.
According to him, because those who are getting the real profit are not Ghanaians, they don't care about the sustainability of the industry.
He said the country's catch volume continues to decline and that Ghana imports about 58 to 59 per cent of her fish needs, blaming politicians for doing little to sanitize the fisheries sector.
He stated that Ghana has lost an estimated $200 million within the last five years due to overfishing, saying "Ghana is losing a lot of money due to the depletion of fish stocks".
Solutions
Suggesting ways by which the country's trawl sector could be properly regulated and managed, Prof. Akpalu said offenders of fisheries regulations ought to be punished severely to serve as deterrent to others.
According to him, many trawlers were engaging in illegal fishing activities because "the fisheries laws are not biting enough."
"We should make sure that when the fishers violate the fisheries regulation, they should be punished and it should be severe," he said, explaining that political interference in the trawl sector was fuelling many illegal activities to thrive in the sector.
Prof. Akpalu said until the various loopholes in the country's fisheries laws are closed, many of the industry players would exploit them.
He expressed worry, for instance, that many trawlers that engaged in illegal activities such as 'saiko' fishing and the use of prohibited fishing gears, when caught, opt for Alternative Dispute Resolution (ADR) instead of being prosecuted in court.
According to him, the ADR method of adjudicating fisheries offenses and crimes lessened the punishment of offenders, hence many of the offenders go back to do the same thing for which they were caught over and over again.
Prof. Akpalu suggested that fishing licenses of trawlers that engaged in illegal activities could be withdrawn, noting that "If we think about the sustainability of our fisheries industry, we could withdraw licenses when they (the trawlers) go against the laws."
He also explained that considering the large number of trawlers on Ghana's waters, it would be appropriate to give the trawlers definite durations for which they can fish in a year.
According to him, when trawlers were given definite fishing durations in a year, it would help to properly monitor their activities for better analysis and assessment.
Prof. Akpalu also called for an increased seasonal closures for trawlers, pointing out that since the number of trawlers were many on Ghana's waters, there should be regular closures for them in order to help the sea to replenish its stocks.
He called for an immediate clampdown on saiko fishing, saying "We have to monitor and discourage saiko fishing."
Prof. Akpalu said saiko could be prevented if restrictions on the volume of by-catch by the trawlers were clearly outlined, with defined punishment for those who would go against the guidelines.
He explained that since the local canoes collaborate with the trawlers for the saiko fishing, tracking devises should be mounted on them (local) while cameras could be mounted on the trawlers to help monitor their activities.
Regulators and players
The Acting Chief Director of MoFAD, Prof F.K.E. Nunoo, said overcapitalization was greatly contributing to the dwindling menace, explaining that "We have a situation of overcapitalization; so many boats and vessels chasing few fish."
He said as part of efforts to prevent overfishing, the Ministry was considering capping the number of canoes and vessels fishing on Ghana's waters.
The President of the Ghana National Canoe Fishermen's Council (GNCFC), Nana Jojo Solomon, thinks that "If our stocks are totally depleted, you won't find any of these vessels on our ports. They will go back to where they came from."
According to him, the increasing number of industrial vessels fishing on Ghana's seas ought to be regulated, saying "The activities of one industrial vessel is enormous; and we also have a lot of them on our waters."
The Director of Hen Mpoano, a local NGO with focus on the fisheries sector, Mr Kofi Agbogah, blamed the overcapacity and dwindling of stocks in Ghana's waters on a total governance failure of the fisheries sector.
According to him, all governments have treated the fisheries sector haphazardly, stressing that there were many illegal activities happening on Ghana's waters but authorities have failed to intervene because many of them were directly involved in the practice.
GITA
The Acting President of the Ghana Industrial Trawlers Association (GITA), Mr Sammy Nii Okai Quaye, said Ghana needed proactive measures to be able to deal with issues confronting the fisheries sector such as overfishing and overcapacity.
"There must be a total closure of access into the fishing industry," he said, adding that "We should close the sea to new canoes and vessels and manage the old ones we have."
Enforcement
The Western Regional Director of the Fisheries Commission, Mr Godfrey Baidoo-Tsibu called for sufficient funding for the Fisheries Enforcement Unit (FEU) to enable them to effectively and efficiently monitor the activities in the fisheries industry.
Source: Graphic.com.gh
Related: