GHANA: Chinese Woman busted for attempting to smuggle Rosewood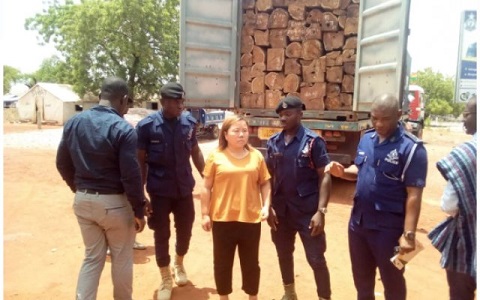 A Chinese woman, Helena Huang is in the grips of the Police in Tamale for allegedly attempting to smuggle four containers of Rosewood.
The Police say they intercepted two trucks in Tamale loaded with two containers of rosewood belonging to the Chinese national.
According to the Northern Regional Police crime officer, Superintendent Otuo Acheampong, Helena Huang failed to produce her passport and other documents to show that she legally acquired the products.
"Our officers at one of our barriers in Tamale intercepted two trucks loaded with four containers of rosewood and informed the command.
The exhibits were escorted to the police station and preliminary investigations indicated that one Chinese lady, Helena Huang claimed she is the owner of the rosewood and was escorting the product to Tema.
Our initial investigation also established that she did not have enough measurement and conveyor certificate as well as a lumber inspection."
The Ministry of Lands and Natural Resources in March this year directed the Forestry Commission to ban the harvesting of Rosewood in the country.
The influence of Chinese nationals remains an everpresent concern as they continue to feature prominently in arrests made despite the intense campaign over the last two years to end illegal mining.
The apprehension of Chinese nationals and their influence in Ghana wasn't helped by the Senior Minister, Yaw Osafo-Maafo, who at a town hall meeting in the United States sparked controversy surrounding the deportation of Chinese national Aisha Huang.
He said Aisha Huang did not face the full prosecution because of the benefits of the Sinohydro deal.
This was met with criticisms and even calls for the Minister's resignation.
The Chinese government has assured it is ready to work with the government of Ghana in the fight against illegal small scale mining.
Shi Ting Wang, the Chinese Ambassador stressed the local complicity in the Chinese involvement and called for better collaboration between the two countries in the fight.
"The local people are the ones who help these Chinese nationals engage in illegal mining but without support from the local inhabitants, the ordinary Chinese cannot engage in illegal mining," he said at the University of Cape Coast.
Source: Citinewsroom