Tiger Run Over By a Tractor and Beaten to Death in India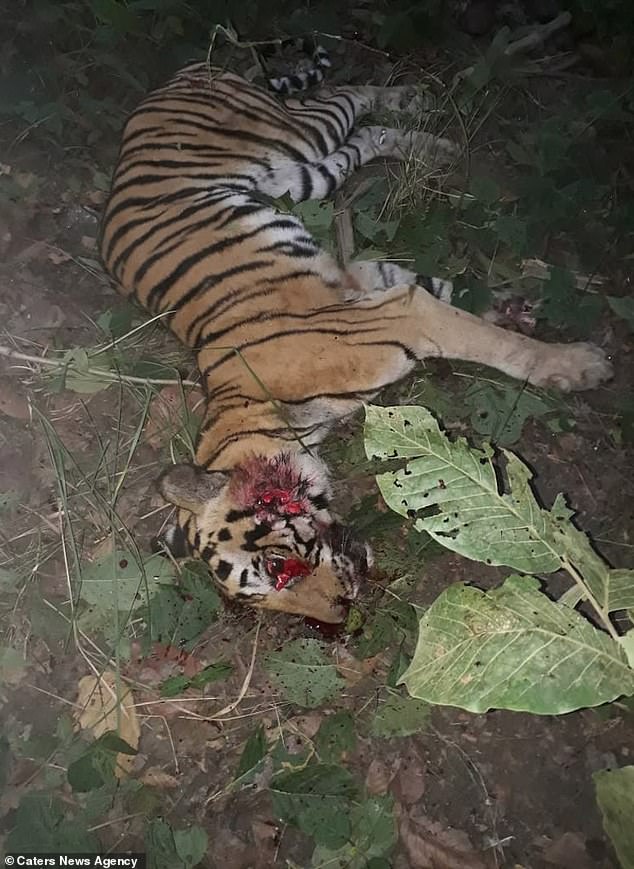 A tiger has been killed by angry villagers in northern India, who ran it over with a tractor and beat it to death after it killed a man, officials said.
Tigress attacked and killed a 50-year-old man in Uttar Pradesh, northern India
Villagers went into nearby tiger reserve and stole forest guards' tractors
They then ran over the tiger with a tractor and beat it to death with sticks
The female tiger had reportedly attacked a 50-year-old man near the Dudhwa Tiger Reserve in Lakhimpur Khiri area, Uttar Pradesh, who later died as a result of his injuries.
Villagers barged into the reserve, attacked the forest guards, stole their tractors and ran over the ten-year-old tigress, before beating it to death with sticks.
Indian tiger killed in cold blood
The shocking incident comes just two days after another female tiger, Avni was killed. She was believed to have killed 13 people and was brutally killed in a secret night operation.
This was brutally done without the presence of veterinarians and tranquillizers. Ramesh Pandey, field director of the reserve, said: 'It is a clear case of a tigress being killed in cold blood.
All the accused involved in the heinous act will be sent to jail. 'I have informed the principal chief conservator of forests about this incident.
'We have managed to retrieve the body of the tigress from the village and the autopsy will be done by a panel of three doctors on Monday.'
Officials said that the tigress had never injured any human in the past and only attacked the victim as he had intruded into the reserve forest as he took a shortcut to his village, which was situated in the buffer zone.
Killing a tiger in protected areas is illegal
Mr Pandey added: 'The tigress had attacked the victim, who was trespassing the forest area, which is an offence.
'We will also book all the accused for attacking forest staff and looting the forest department's property and misusing it for killing the tigress.
Killing a tiger in protected areas is illegal, and the reserve's director, Ramesh Pandey, said a case under the Wildlife Protection Act would be registered with police against the offenders.
In April, villagers in the state's Nighasan area beat up a tiger, causing serious injuries to the big cat.
The tiger is India's national animal and it is categorized as endangered under the Wildlife Protection Act. Government data last year showed at least one person killed per day in conflict with a wild tiger or elephant for the previous three years.
The human conflict with tigers has gradually increased since the 1970s. When India started a tiger conservation program that carved out sanctuaries in national parks and made it a crime to kill a big cat.
Though methods for counting tigers have changed, a census suggests the population of about 1,800 tigers then grew to 2,226 in 2014.
Source: Daily Mail