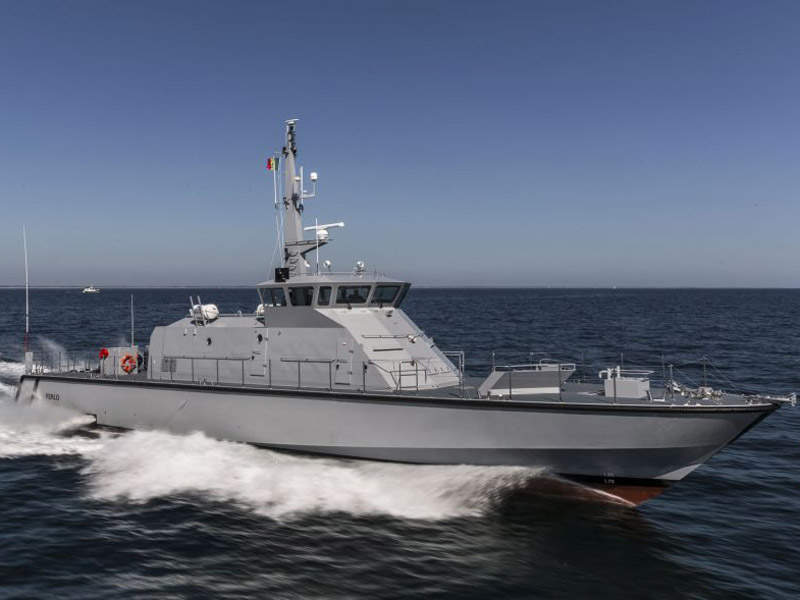 France's Raidco Marine has received an order from Senegal for the delivery of two more RPB 33 patrol boats, after the shipyard delivered a single RPB 33 in 2013.
The contract was signed in 2018, but Senegal was only identified by Raidco as the customer this year, when French Armed Forces minister Florence Parly visited French shipyards on 19 April.
Both new vessels are being built at Raidco's UFAST Shipyard and will be delivered in October this year and June 2020, with crew training expected to begin in the coming months.
The patrol boats are a welcome tool in fighting illegal fishing in Senegalese waters.
According to Mer et Marine, the vessels will be operated on behalf of the High Authority for Maritime Security, Maritime Safety and Marine Environment (HASSMAR) by the Senegalese Navy.
The 33.73 metre long, 6.5 metre wide vessels are powered by two 1 100 hp MAN engines, giving a top speed of 22 knots and a range of 1 500 miles at 15 knots for an endurance of one week at sea.
A rear ramp is able to launch a 6.2 metre long aluminium-hulled boat, also manufactured by UFAST.
Built out of an aluminium superstructure and glass fibre reinforced composites, the RPB 33 features a bridge design which allows for 360 degree surveillance.
Armament on the Senegalese vessels will most likely comprise a 20 mm cannon and 12.7 mm machineguns.
Senegal's first RPB 33, Ferlo, was delivered in the third quarter of 2013 and was involved in Operation Restore Democracy in the Gambia in 2017.
RPB 33s have also been delivered to Togo (two in 2014) and Cote d'Ivoire (three between 2014 and 2016).
A donation from US
Senegal's navy received a boost in February last year when the United States handed over two donated 11.5 metre Defiant class patrol boats.
The donation included boat repair and maintenance kits, and towing vehicles, and a two-week training session on the use and maintenance of the vessels.
The Defiant is an aluminium patrol boat built by Metal Shark. Various powerplant options are available, including inboard diesels or multiple outboards, giving top speeds of up to 50 knots depending on engine configuration.
In 2015 Senegal received the 45.8 metre long offshore patrol vessel Kedougou from STX France. This was ordered from Raidco Marine, which subcontracted construction to the STX Lorient shipyard.
This was followed a year later by the 58 metre long Fouladou offshore patrol vessel, built by France's Ocea.
The new vessels are part of Senegal's plan to renew its naval fleet and allow the maritime arm of service to carry out missions such as fisheries inspection, fighting drug trafficking and piracy.
Senegal's navy has around 900 sailors and thirty vessels that patrol 700 kilometres of coastline and 159 000 square kilometres of exclusive economic zone (EEZ). Enough patrol boats could make the difference in fighting illegal fishing in Senegal.
Source: defenceweb.co.za
Subscribe for the GWW Newsletter