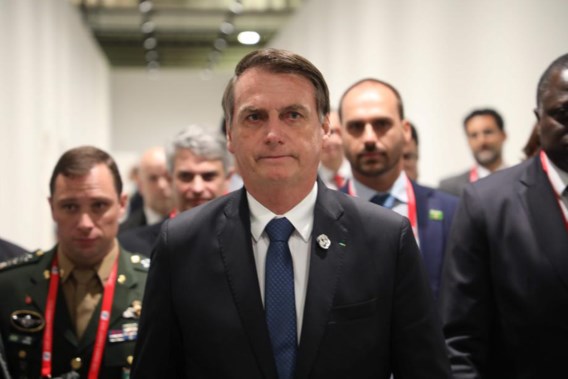 President Jair Bolsonaro described the trafficking of cocaine by a sergeant on a Brazilian Air Force plane bound for the G-20 summit in Japan as "unacceptable" and denied it had any connection to his team.
"I demanded immediate and severe punishment for the person responsible for the narcotic substance found in the military plane," Bolsonaro wrote on social media Wednesday. "We won't tolerate such disrespect to our country!"
During a layover in Seville, Spanish police discovered 39 kilograms of cocaine in the luggage of a crew member in Bolsonaro's advance party to the summit that will take place in Osaka, according to local press reports.
Apesar de não ter relação com minha equipe, o episódio de ontem, ocorrido na Espanha, é inaceitável. Exigi investigação imediata e punição severa ao responsável pelo material entorpecente encontrado no avião da FAB. Não toleraremos tamanho desrespeito ao nosso país!

— Jair M. Bolsonaro (@jairbolsonaro) June 26, 2019
The incident is an embarrassment to Bolsonaro, who campaigned on a law and order platform, particularly the fight against drug trafficking gangs, and frequently lauds the moral principles of the military.
"It will have more long-lasting impacts abroad than domestically," said Thiago de Aragao, director of strategy at political consultancy Arko Advice, adding presidential planes will be subject to greater scrutiny. "This is a layer of embarrassment for Brazil."
Bolsonaro declined to answer questions from reporters in Osaka on the sergeant's arrest.
In an earlier statement on social media, he said Brazil's armed forces are comprised of 300,000 ethically upstanding servicemen and women, and that he had instructed the Defense Ministry to work with Spanish authorities.
Brazil's top security official, Institutional Security Minister Augusto Heleno Pereira, minimized the incident, telling reporters there's drug trafficking everywhere.
"It was a lack of luck for this to happen at the same time as a global event, with it winding up having a global repercussion that it wouldn't have had," he said. "It was very unfortunate."
Brazil has become an important way-station for cocaine produced in the Andes and ultimately bound for consumers in Europe.
To read more: The Port That Mirrors Brazil's Promise and Problems (Updates with comments from political consultant and institutional security minister.)
By Bloomberg