Lake Ngami in Botswana once was abundant with water and teeming with life. This scenery now changed into true horror scene as the worst drought in decades hits the area.
Where usually was an abundance of water, now animals can be seen struggling in the mud and facing a horrible death. Herds of hippos are now left and the last bits of wet mud. Hundreds of them already lost their lives, others are still trying to survive.
The lake is drying up fast and the animals get stuck and die under the burning sun. Photographer Martin Harvey was at the scene and made a shocking report.
The Dying Lake - The Horror of Drought at Lake Ngami, Botswana from Martin Harvey on Vimeo.
Herds of animals dying of dehydration as a severe drought ravages the region. It's not only the hippo's who live in the lake, but also other animals coming to the lake in a desperate attempt to drink some water.
They will try to make their way through the mud to reach the last water. During their journey however they get stuck and die because of dehydration.
While the hippos's try to find the last mud pools, fishermen in the back are busy collecting the last catfishes that are now exposed to the surface of the lake.
Dying horses, but also cows can be seen stuck in the mud up to their shoulders. Still alive, but already with vultures on their backs.
Photographer Harvey was emotionally broken after seeing this heartbreaking scenario. But kept making pictures despite the intense smell of rotting animals. By using a drone he managed to make more pictures of the dried up lake and the animals that were stuck in the mud.
Around 38 000 livestock depend on the waters of Lake Ngami in northern Botswana, but the animals - like the lake itself - have been stricken by a crippling drought.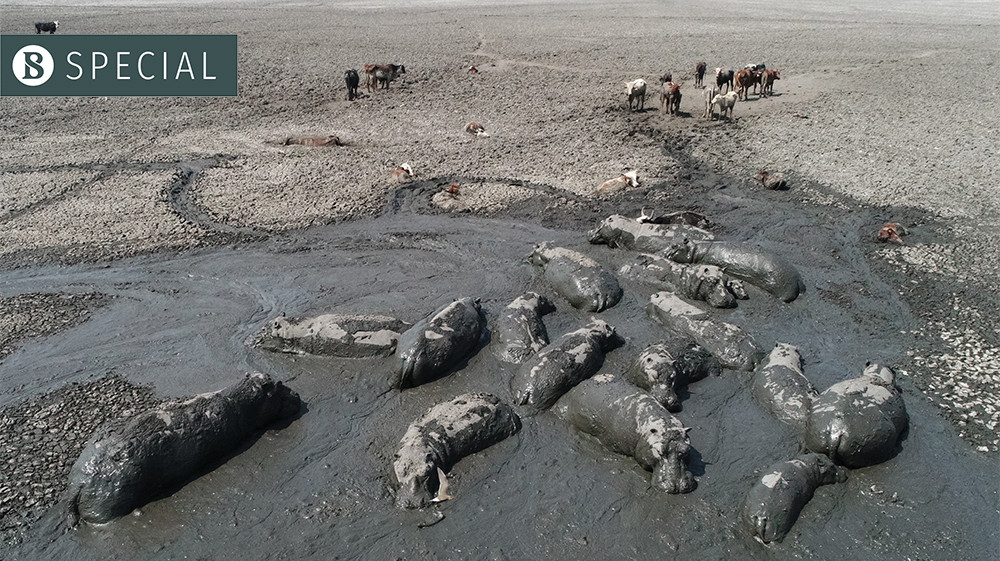 Grazers have to walk long distances in hopes of finding anything to eat. Some succumb to the heat and vultures can be seen feating on their corpses in the sludge of the lake bed.
In May, President Mokgweetsi Masisi officially declared Botswana to be in drought after months of unevenly distributed rains, heat waves and dry spells.