Luciano Ponzetto caused outrage among animal lovers after shooting the lion and other animals but insisted he had done nothing wrong. A big game hunter who sparked worldwide fury when he posed next to a lion he had killed has died after falling 100ft down a ravine while shooting birds.
Vet Luciano Ponzetto, 55, received death threats and hate mail after he posted the snaps of him with the lion on social media last year.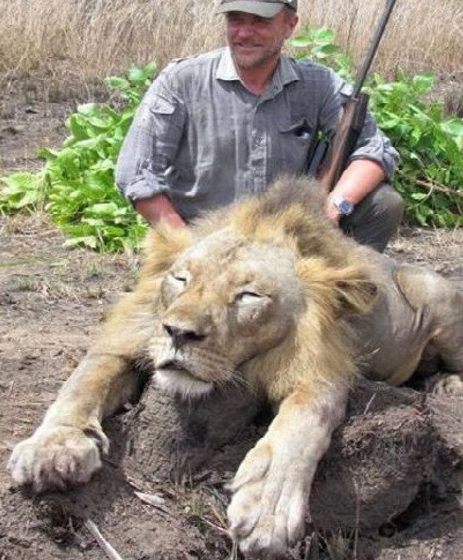 He insisted he had done nothing wrong but the controversy forced him to step down as the medical director of a kennel business after being slammed for shooting the lion despite working with animals.
Officials say he was out hunting with pals when he slipped on ice and fell down the ravine at Colle delle Oche in hills above the Italian city of Turin.
The Giraffe Population Has Decreased By 40% Due To Trophy Hunters
He had been trying to shoot wild birds to eat - a popular past time in Italy - when he died and had only recently returned from a shooting trip to Canada telling friends he had bagged several big hits.
Ponzetto had angered animal lovers by posing smiling next to a lion he had shot and then uploading it onto his Facebook page. He hit back at critics and said: "I know that I have done nothing wrong.
"I am being criticised by people who do not know me, I have always loved my work and I have always loved animals.
"I will carry on hunting until the law changes."
Tanzania has lifted its 3 year ban on trophy hunting making it legal to kill wildlife again
Social media sites immediately picked up on his death and described it as "karma".
One wrote: "I don't quite see how this man could have worked as a vet and then happily gone out and killed animals.
"He should have had more respect."
An Italian police spokesman said: "We were called by the mountain rescue services who had been alerted to the incident by someone who was out with him.
"His body was recovered by helicopter and taken to a local hospital.
"It looks like he slipped and fell when he was out hunting.
"He died instantly and there was nothing that could be done."
The case drew comparisons with that of legendary Cecil the Lion who was shot dead by an American game hunter in Zimbabwe last year.
Source: Thesun.co.uk