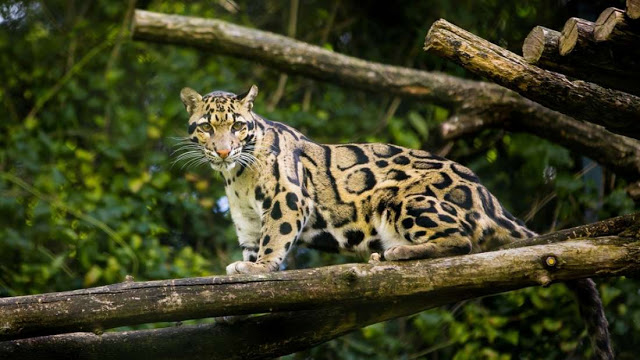 The Formosan clouded leopard, a leopard species, believed to have been completely extinct, has been spotted in southeast Taiwan for the first time in over 30 years, prompting a push to protect the big cat from hunters and habitat damage.
The Formosan clouded leopard was officially declared extinct in 2013, after it had not been spotted since 1983 and a 13-year-long study by zoologists failed to find even one leopard.
However, locals in the southeast Taiwan town of Daren, Taitung, reported seeing the rare cat again in recent months, inspiring a group of rangers to monitor the area.
The rangers have now reported two sightings of a group of Formosan clouded leopards hunting goats, and one running up a tree.
Now, researchers are coordinating with locals to keep hunters at bay, according to the village chief Kao Cheng-chi.
A great year for animals presumed to be extinct
Exclusive to Taiwan, the dusky-grey Formosan clouded leopard has been designated 'vulnerable' since 2008, as extensive logging ate away at the animal's natural habitat and forced them into the mountains.
It's been a great start to the year for animals presumed extinct. Just last month a species of giant tortoise thought to have disappeared since 1906 was discovered on the Galapagos island of Fernandina.
Liu said Saturday it was no surprise that the animal has not been seen by a human being in more than two decades because it is vigilant and cannot be trapped or easily caught by hunters in the wild.
The professor said, however, that when he was researching the Bunun people's hunting culture back in 1998, some Bunun came forward to admit that they had captured Formosan clouded leopards, but had burned their bodies for fear of being prosecuted under the Wildlife Conservation Act.
The claims of sightings of the animal was big news for the Forestry Bureau, but the fact that the Formosan clouded leopard has not been seen in Taiwan for the past decades meant the agency still needs to verify the sources, Huang said.
The Taitung Forest District Office respected the actions of the tribe to protect its resources, he said, but emphasized that a scientific investigation was needed before coming to a conclusion.
The bureau will actively consult with the tribe in investigating the sightings, he said.
The Formosan clouded leopard was featured on the Animal Planet's television documentary "Extinct or Alive" in July last year.
According to numerous media reports, the last time the animal was officially spotted by authorities in Taiwan was in 1983.
(By Tyson Lu and Ko Lin)
Enditem/ls